Automate your Savings, Reach your Financial Goals
Start a disciplined approach to growing your finance. It takes less than 2 minutes.
Earn between 11-13% interest on savings
Start Saving Now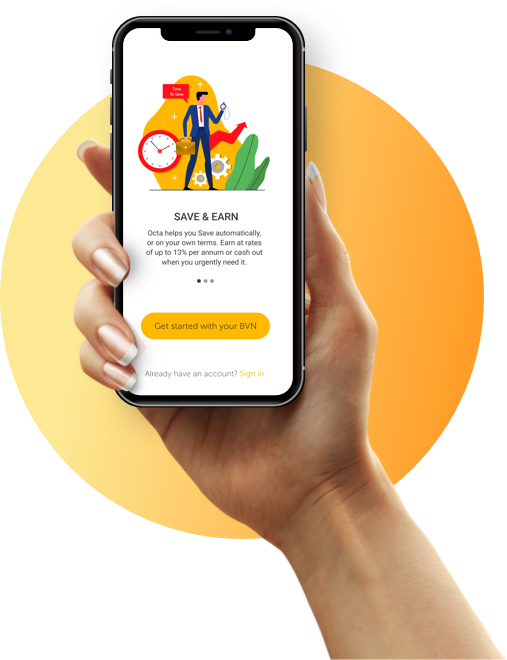 Explore our Features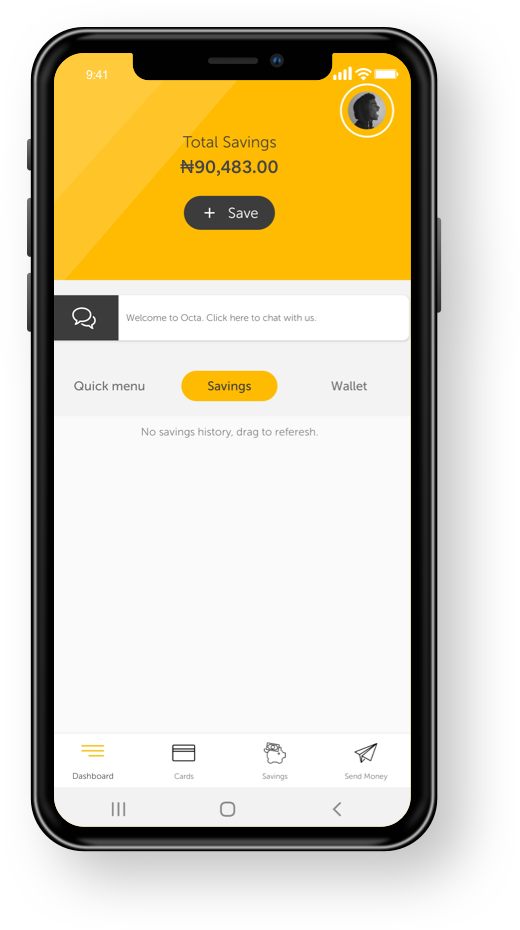 Auto Save
Octa takes the stress off you and keeps you disciplined by automating your saving.
Free Withdrawals
You can withdraw any time at no cost (Zero Charge) through our send money feature.
Real Time Notifications
See how far and well your savings are going with regular notifications.
Multiple Goals
Have more than one goal in mind? No worries, Octa allows you create as many goals as you want. You can save and track each goal uniquely.
Higher Interest Rate
Savings in Octa enjoy competitive interest rates at up to 13%.
Quick Save
Use this to quickly set aside bulk or extra money you don't want to spend. Quick save is different from your regular savings goals.
TESTIMONIALS
What People Are Saying

Yemi Johnson
---
"Octa has really helped me to save! This has helped me to be consistent in savings compared to my "kolo" I use at home."

Moyo Omotosho
---
"I was initially not aware of savings apps. Octa was recommended to me by a friend and it is such a great choice! I am so happy I can save with added interests."

Ogechi Lawson
---
"With Octa, my money is basically working for me.. The features are easy and understandable... Well done guys"

Yemi Johnson
---
"Octa has really helped me to save! This has helped me to be consistent in savings compared to my "kolo" I use at home."

Moyo Omotosho
---
"I was initially not aware of savings apps. Octa was recommended to me by a friend and it is such a great choice! I am so happy I can save with added interests."

Ogechi Lawson
---
"With Octa, my money is basically working for me.. The features are easy and understandable... Well done guys"
Previous
Next